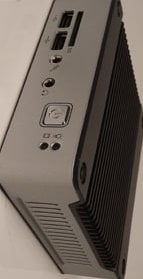 $US 265.00
This standalone SolarNode allows you to monitor and record your power generation online by joining the SolarNetwork (login or register here). The standard SolarNode must be connected directly to one of the SolarNetwork's supported devices for data to be collected. This version of the SolarNode comes with both a RS232 and a RS485 port via two DB9 plugs on the back.
Once connected, the SolarNode will allow your PV generated electricity and/or consumed electricity to be recorded in realtime (the SolarNode must be connected to an Internet connection).
All Greenstage supplied SolarNodes come with industrial grade SLC SD media cards with pre-installed SolarNetwork software.